AXA DESIGN ACCESSORIES
AXA Design manufactures a number of accessories to complete your automation system and to provide extra functionality.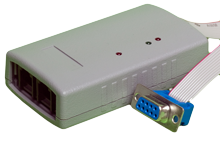 AXA-232/485PC RS232 TO RS485 CONVERTER
The AXA-232/485PC is intended for use as a programming tool, which is temporarily connected to the Dynalite network and the technician's computer.
IN OPERATION
The unit is optically isolated and powered by 12 Volts DC from the Dynet network. It has a 12 Volt power LED to indicate network power and Transmit/Receive LED's to indicate RS232 traffic in either direction.
FEATURES
Small size
Optical isolation
Power LED
Activity LED
Bi-directional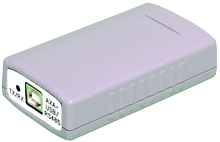 AXA-USB/485 USB TO RS485 CONVERTER
The AXA-USB/485 is intended for use as a programming tool, for use with computers that don't have a standard serial communication port
IN OPERATION
Works with standard Windows XP drivers but you will have to adjust the latency time under the advanced settings for the comm. port. By default it sets the Latency Timer to 16ms, which will need to be reduced (typically 1ms).
FEATURES
Supports DLight 2 & Envision Project for Dynalite programming
Supports Allcomm for AXA programming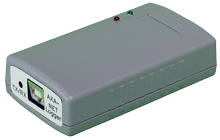 AXA-NETLOGGER DYNALITE NETWORK TRAFFIC LOGGER
The AXA-NETLOGGER is used as a network data logger to capture and record Dynet messages that appear on the Dynalite network and is a great tool for fault finding.
IN OPERATION
The AXA-NETLOGGER captures and stores Dynet messages in non volatile memory along with a time and date stamp for every message. The unit also logs power failures and is used with a PC via USB to retrieve the log. Logging can be remotely started or stopped and if the memory becomes full the unit will overwrite the oldest data first.
FEATURES
RS485 connection to Dynet
USB connection to PC to download log
Small size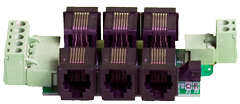 AXA-BOB MULTI DEVICE RJ12 CONNECTION POINT
AXA-BOB is a device used to connect multiple Dynalite devices to a single Dynet connection.
This is a great device to use when bench testing as it provides 7 Dynet connection points (1 Phoenix & 6 RJ12) and an input with an LED indicator for a 12VDC power supply for conveniently powering up devices during testing.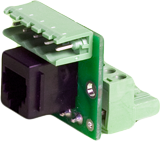 AXA-ADRS SCREW TERMINAL TO RJ12 CONNECTION
AXA-ADRS is a device that allows a programmer to tap into a Dynalite network via the Phoenix terminal on the back of a device (typically a control keypad). The network cable can be unplugged from the keypad and the ADRS plugged into the keypad allowing both the network cable (Phoenix) and a programming lead (RJ12) to be plugged in simultaneously.